Good news !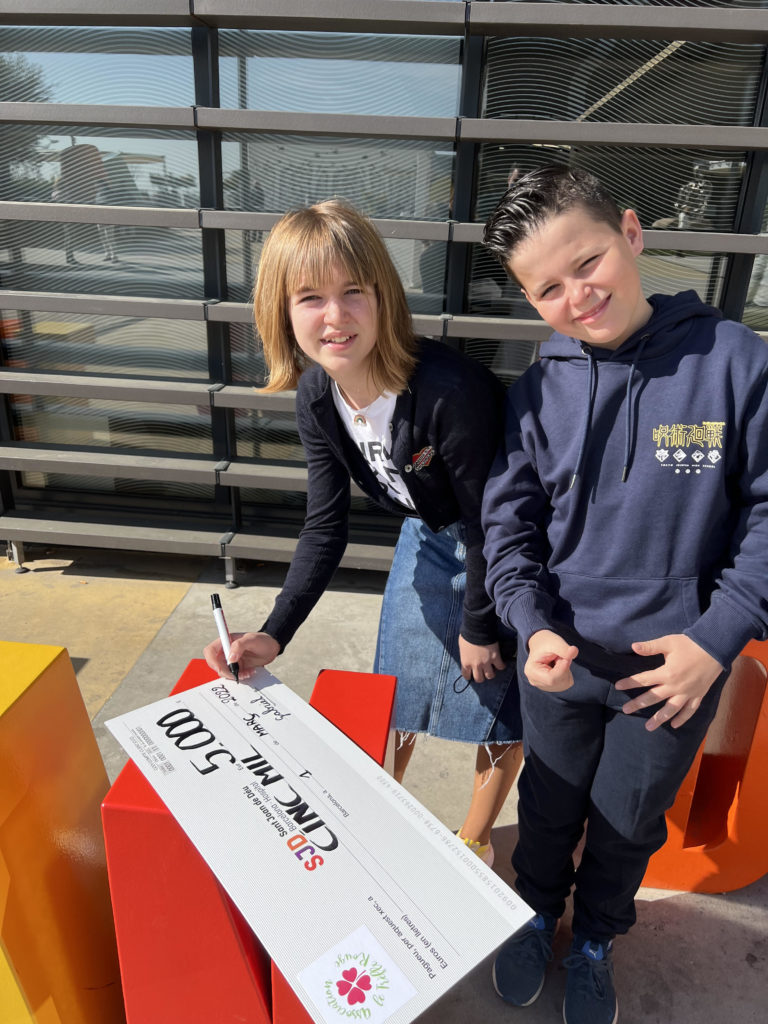 Gala and Gabriel wish you Happy Holidays !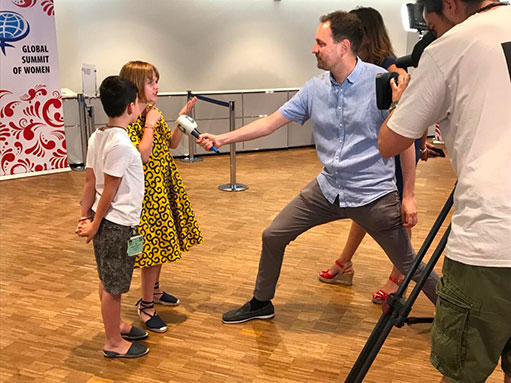 Global Summit of Women
Gala Vilarrasa Richard spoke at the 29th Global Summit of Women in Basel in the presence of more than 1,500 women from 70 countries to present her association Le Trèfle Rouge. She received thunderous applause and a standing ovation.
During the Global Summit of Women, Muriel Penicaud, the Minister of Labor welcomed the action of Gala and Gabriel for the association in front of the French delegation.
Association Le Trèfle Rouge
Generosity has no age.
I invite all children with happy lives to give just a little.
Happy children give to poor children. A small donation can make a difference.
And don't try to tell me it's impossible!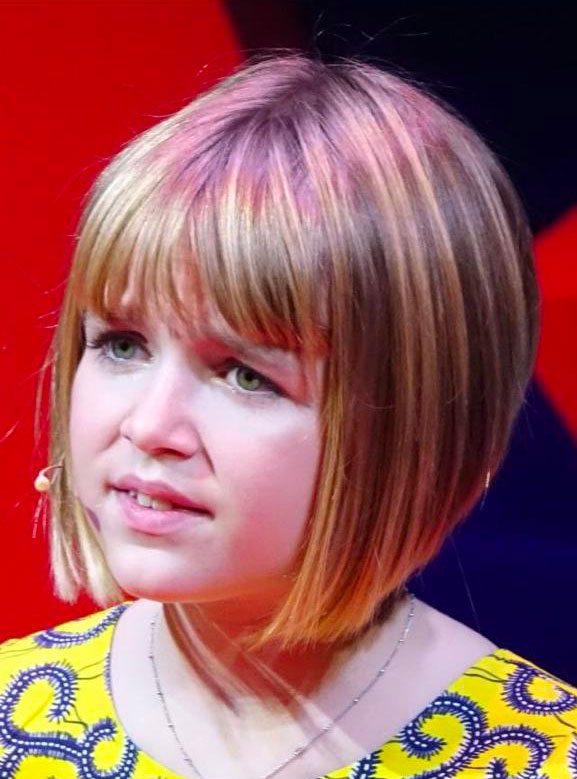 News & media

La conférence TEDx de cette enfant montre qu'il n'y a pas d'âge pour être généreux Gala Vilarrasa est en CM2 et elle a reçu un tonnerre d'applaudissements lors de sa conférence TEDx sur la générosité.

À seulement 10 ans, elle a déjà fondé une association et animé sa propre conférence. Voici le portrait de Gala Vilarrasa.
TEDxChampsElyseesWomen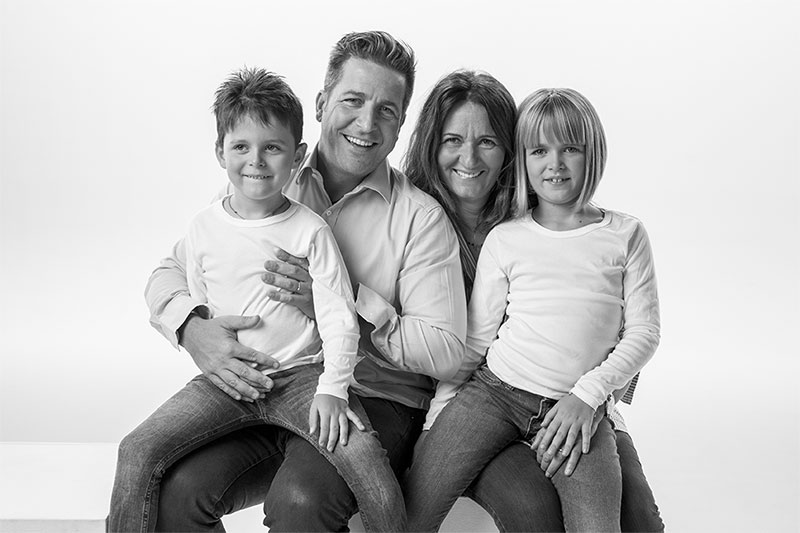 Organisation
President Gala, Vice-President and little brother Gabriel, Secretary-General & Dad Marc, Treasurer & Mum, Elisabeth
Beginnings
Gala is 10 years old, and Franco-Spanish. Highly creative, she does classical dance, flamenco, and plays the guitar. She loves painting and drawing. Gala speaks French, Spanish, and Catalan. She has a big heart and generosity is something she values. Gala has created a charity with the aim of combating child poverty and helping children in hospital. Her little brother Gabriel and her dad are its first supporters. Her mum has been, for more than 15 years, very involved in issues of equality and the fight against discrimination in France and internationally.
I'm Gala, a little girl like any other
Hello, my name is Gala and I would like to talk to you about something very important in my life. I'm 10, I'm a normal little girl like any other, I'm in CM2 at the Spanish school in Paris. I do classical dance, flamenco, and I play the guitar.
One day in the car…
One day, in the car with Mum and my brother Gabriel, I saw a huge wallscape on a skyscraper in Paris. On the sign, there was a picture of a little boy with an angry face and crossed arms, and it said: "cancer at 7 years old, really?" Really, mum? But mum, how is that possible? And she replied, "life isn't fair my darling, we're lucky to be healthy and we have to help find medicine to cure all these children." And then every day that I take the bus, I see people on the floor in the street in the rain, in the cold. Every day at home my parents get letters from societies that show unbearable images – you see these emaciated children, between life and death… At 3 years old? 2 years old? 10 months…it's a disgrace! And from the bottom of my heart, I want never to see that again! It's unfair that some people have money and others don't, I've always seen so much unfairness.
The history of Le Trèfle Rouge
Le Trèfle Rouge (The Red Clover)
That's why I have just created a charity that helps to fight poverty and to come to the aid of children in hospital. It's called the Trèfle Rouge (the Red Clover). Clover represents luck and happiness for everyone…yes, everyone, and Red because it makes me think of the Red Cross who always offer help and care.
What I'm asking for is that you don't keep all your money for nothing. If you give, you help, and so you save lives.
I'm not Abbé Pierre
I'm not Abbé Pierre, or Coluche or Sister Emmanuelle (who are all famous for their charity work in France). I'm Gala and I, 10-year-old Gala, would prefer to save 10 children than no-one. Sister Emmanuelle said something very important to me: listen…understand…to respond better to the needs of the poorest, and then everything is possible.
To all children
Every year for my birthday, I will now ask my friends and my family for donations to my charity, and have fewer things that clutter my bedroom and that don't make me happy. If everybody did that then the world would be much better. Generosity has no age; we can all give. I invite all children with happy lives to give just a little. It's also what gives life a purpose, and that which gives my life purpose. And don't try to tell me it's impossible!
Gala et Gabriel sont heureux de soutenir la Fondation Gustave Roussy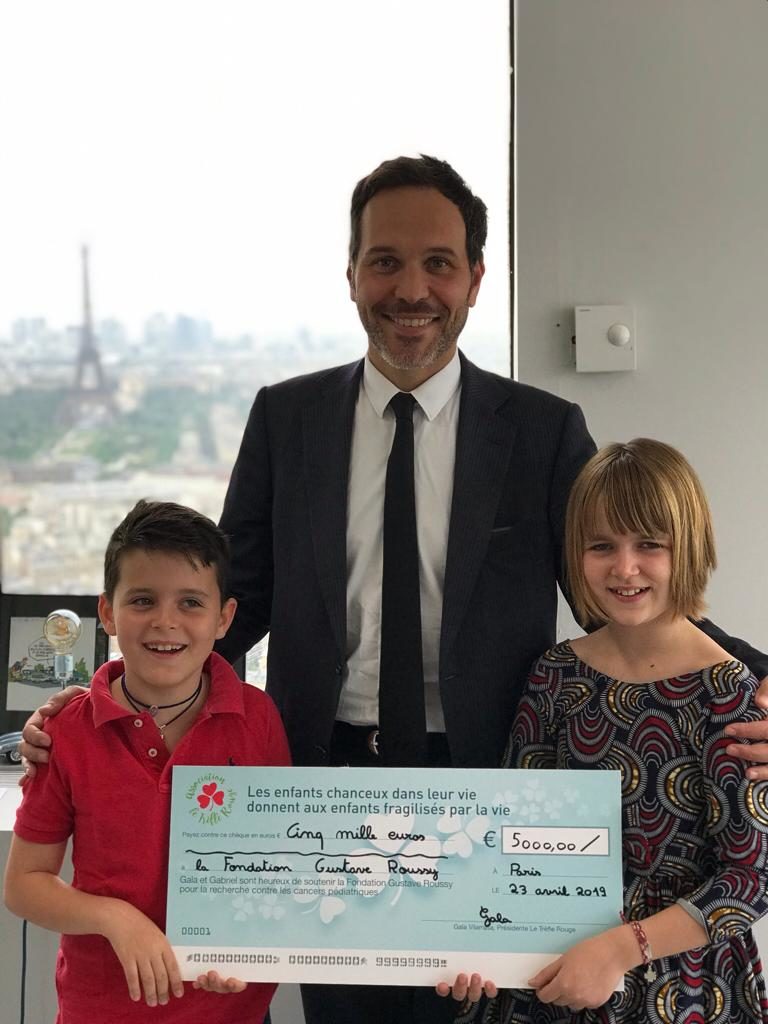 And Autour des Williams